The race to stop the spread of Covid-19 through vaccination continues and SM Development Corporation (SMDC) is stepping on the gas to protect its residents and employees.
Partnering with local government units and the Philippine Red Cross, the country's largest and fastest growing real estate developer recently inoculated 1,200 condominium residents in four of its properties, namely Mezza Residences, Mezza II Residences, Grass Residences, and Trees Residences all in Quezon City.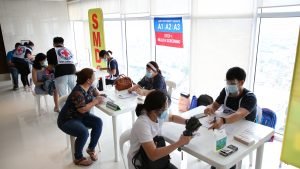 SMDC Residents undergo the necessary health screening with the Red Cross before the vaccine is administered
SMDC President Jose Mari Banzon said the company is grateful for the support of the Quezon City government and the Red Cross, and for the willingness of SMDC residents to be vaccinated.
Quezon City Mayor Joy Belmonte at the SMDC vaccination drive at SMDC's Mezza Residences
The Red Cross has warned vaccination rate must increase rapidly and protection measures upheld if we want to win the race against more transmissible, and potentially more fatal variants of Covid-19.
The entire SM Group has been actively supporting the government's vaccination program with the inoculation of its employees and opening its malls as vaccination sites, and SMDC saw the need to join the vaccination campaign after an informal survey revealed majority of its residents have not availed of the government's inoculation programs yet.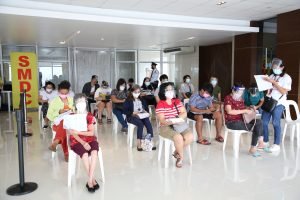 LGU and DOH inspected the function rooms of the SMDC properties, and were approved as inoculation venues for the SMDC residents
The amenity areas in the SMDC developments served as safe vaccination venues. The Red Cross ensured the proper sanitation of these areas and provided medical personnel to administer the vaccines. A number of medical doctors and nurses, who are actual residents of SMDC properties, volunteered and have been trained to help.
The initiative earned commendations from the local government, the Red Cross, and the residents themselves who readily posed for pictures after vaccine shots, holding placards that said, "Proudly Vaccinated" with the hashtag "#goodjabgoodguys", with the hopes of encouraging more individuals to get vaccinated.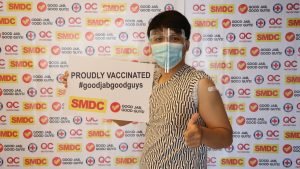 An SMDC resident posing for a photo after his vaccination
Several senior citizens living in SMDC Residences expressed their appreciation of the company's initiative which made it easier for them to be vaccinated. They said they were initially hesitant to leave the comforts of their condominium units to get vaccinated for fear of catching the virus in crowded and unsanitized areas. "Mabuti na lang dito na mismo sa community namin ginawa ang vaccination. Hindi na kami kailangan lumayo pa. Mahirap talaga lumabas pag senior na kasi dahil baka ma-expose pa ako sa virus," one of them said.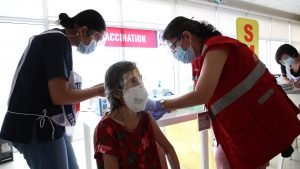 A senior SMDC resident receiving the vaccine in the safe confines of her community
SMDC has also rolled out a vaccination drive for its employees and sales agents to ensure a safe work environment, and so individuals who would like to approach an SMDC sales agent to inquire about a property can safely do so.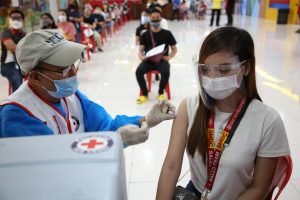 A medical staff of the Red Cross administering the vaccine to an SMDC Sales Person
SMDC plans to continue rolling out its vaccination drive, working together with LGUs and the Philippine Red Cross for its other developments.
To read more about SMDC and its various community activities, visit https://smdc.com/
# # #
---
"COMMENT DISCLAIMER: Reader comments posted on this Web site are not in any way endorsed by SAKSI NGAYON. Comments are views by saksingayon.com readers who exercise their right to free expression and they do not necessarily represent or reflect the position or viewpoint of saksingayon.com. While reserving this publication's right to delete comments that are deemed offensive, indecent or inconsistent with SAKSI NGAYON editorial standards, SAKSI NGAYON may not be held liable for any false information posted by readers in this comments section."